Date:

2023-08-02

Department:

Department of Veterans Service and Assistance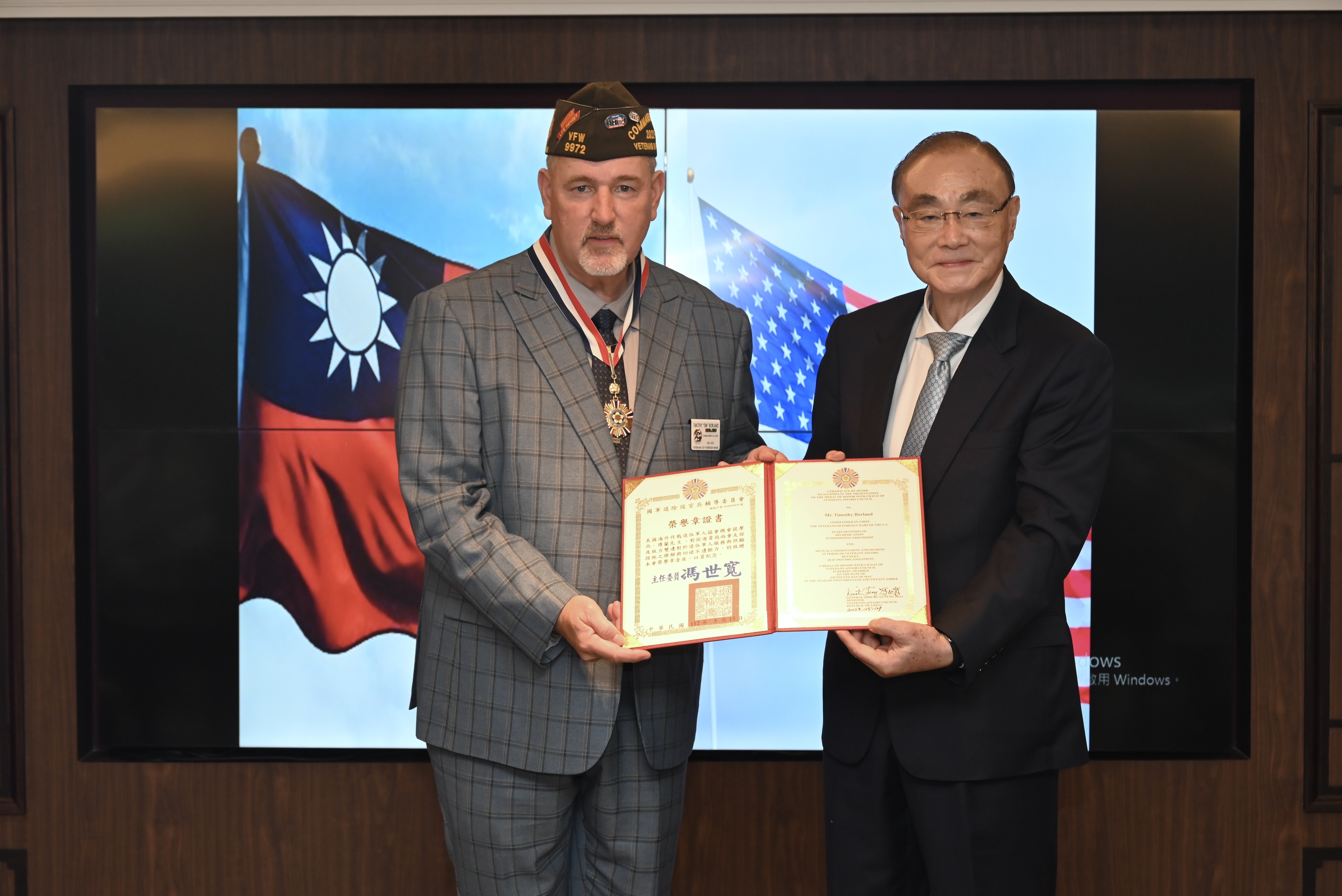 President Tsai met with Mr. Borland, the Commander-in-Chief of The Veterans of Foreign Wars of the U.S. Minister Feng also presented him with a medal of honor, and Roland assured continued close cooperation with our country.
On May 15th, President Tsai met with Roland, the Commander-in-Chief of The Veterans of Foreign Wars of the U.S. In her speech, President Tsai pointed out that since last year, the Taipei Economic and Cultural Representative Office in the United States has established a veterans' affairs unit. The VAC has also sent representatives to Washington, D.C. We hope it will enhance veterans' welfare from both sides and bring about more profound and broader exchanges between the two countries.
Minister Feng accompanied the guests to meet with President Tsai. President Tsai mentioned in her speech that the VFW has close ties with the Veterans Affairs Council, ROC and also has a brotherhood relationship with VAC. Over the years, both sides have actively promoted exchanges through various actions. She expressed her pleasure that after the global pandemic improved, Commander-in-Chief Borland and Executive Director Gallucci could visit Taiwan and work together to enhance the relationship between Taiwan and the USA.
Commander Borland mentioned that he was honored to visit Taiwan. It is also the first time to visit since 2019. As a veteran with twenty-eight years of experience and the fourth generation of his family and as the Commander-in-Chief of the VFW, he promised President Tsai to continue close cooperation with Taiwan. Commander Borland mentioned that the VFW would hold its national convention in Phoenix, Arizona, USA, and he hopes to invite President Tsai to deliver a short video speech to let everyone understand how closely the two countries can cooperate and protect each other's needs.
On the same day, Commander Borland also visited the VAC. Minister Feng expressed a sincere welcome and hoped that the VFW would continue to maintain contact and communication with the VAC to contribute to veterans' affairs together.
Minister Feng presented the Medal of Honor to Commander-in-Chief Borland and recognized his contributions to promoting friendship between the two organizations. Commander Borland presented Minister Feng with a challenging coin in return and emphasized the commitment of both associations to care for veterans' welfare.