Date:

2023-12-04

Department:

Department of Veterans Service and Assistance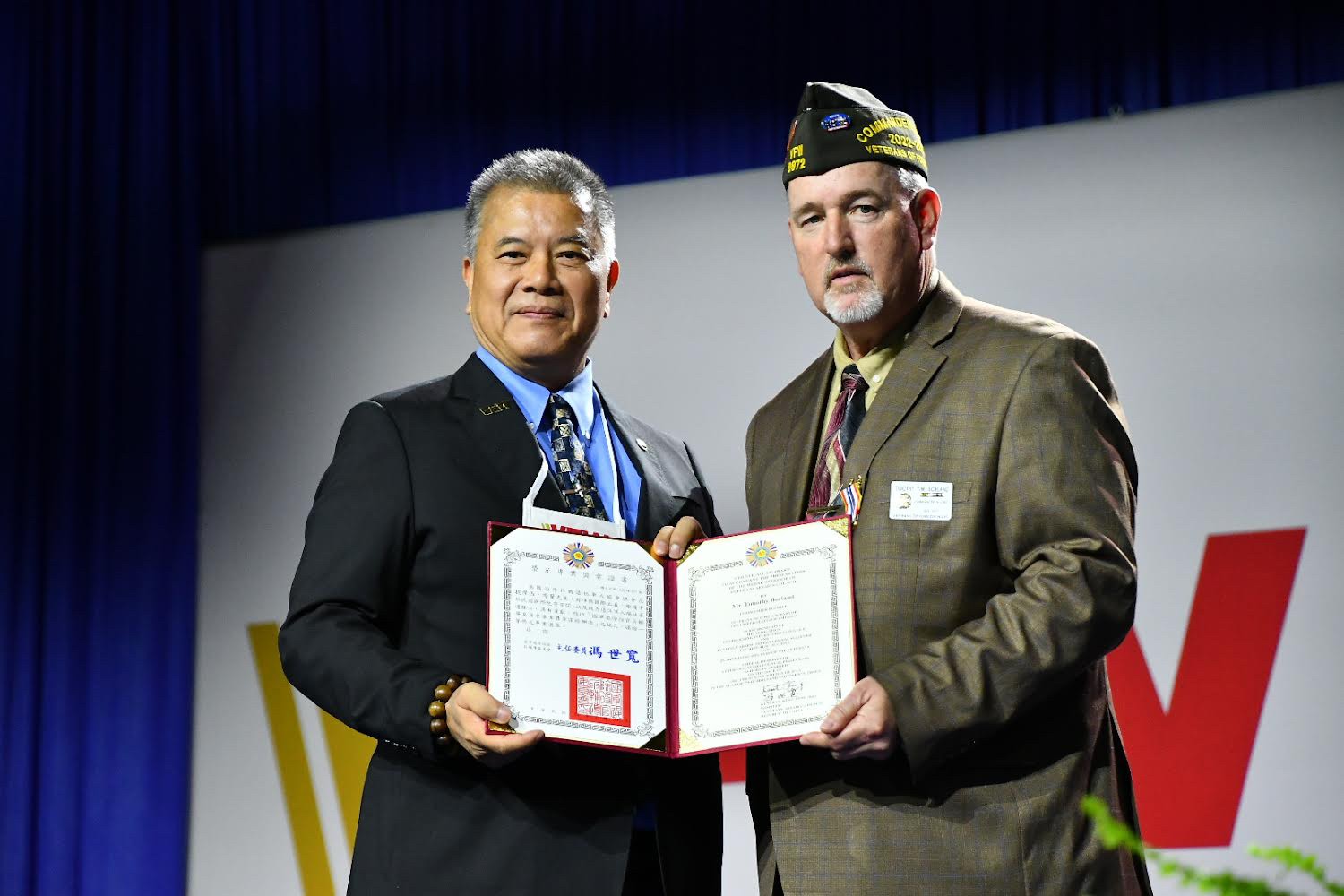 On July 24, Vice Minister Wu Chih-Yang was invited to attend the 2023 National Convention of the Veterans of Foreign Wars (VFW) in the United States. During the event, President Tsai's congratulatory message was played. Vice Minister Wu, representing the Veterans Affairs Council, ROC(Taiwan), signed a joint proclamation with VFW to renew the existing brotherhood alliance and claim to protect the welfare of veterans. He also presented the Commander-in-Cheif Borland with the medal of honor of the VAC.
Vice Minister Wu and Wang Kai-Heng, Deputy Director of the Service and Care Department, arrived in Phoenix, Arizona, USA, on July 21. The following day, they attended the Welcome Banquet held by the ROC Veterans Association in Phoenix and the Chief of the Veterans Affairs Division in the USA, Ni Bang-Chen, and Secretary Cheng Guo-Feng. During the banquet, Vice Minister Wu presented a certificate of appreciation to Chairman Wang, thanking him for assisting the government in promoting international relations. He also expressed greetings and gratitude on behalf of the Minister of the Veterans Affairs Council, Kent Feng, to the members of the ROC Veterans Association in Phoenix for their efforts and contributions to the overseas Chinese community.
On July 23, Vice Minister Wu attended the National Security and Foreign Affairs Committee's meeting of the veterans of foreign wars of the U.S. During the meeting, he expressed gratitude for the committee's continuous support for Taiwan through resolutions, which conveyed the United States' unwavering support for the Republic of China, Taiwan.
The VFW National Convention was held in Phoenix, featuring President Tsai's pre-recorded video. In her speech, President Tsai thanked American society and the current government for enhancing Taiwan's self-defense capabilities. She also emphasized Taiwan's commitment to supporting freedom, democracy, the rule of law, and human rights.
During the convention, the VAC and the VFW renewed the brotherhood alliance. Vice Minister Wu and Commander-in-Chief Borland presented a joint proclamation. Vice Minister Wu also presented the medal of honor of the VAC to Commander Borland in recognition of his efforts to promote bilateral cooperation and exchange between as well as advancing international justice and promoting veterans' welfare.
After the convention, Vice Minister Wu went to Needles City in California. He met with Mayor Janet Jernigan and city councilors and showed gratitude for the city's strong support for the Republic of China, Taiwan, over the past fifty years. He also presented a certificate of appreciation to the city's first Chinese-American councilor, Mr. Robert Yee, for his longstanding support and participation in Double-Ten Day flag-raising ceremony.