Date:

2016-06-28

Department:

Department of Veterans Service and Assistance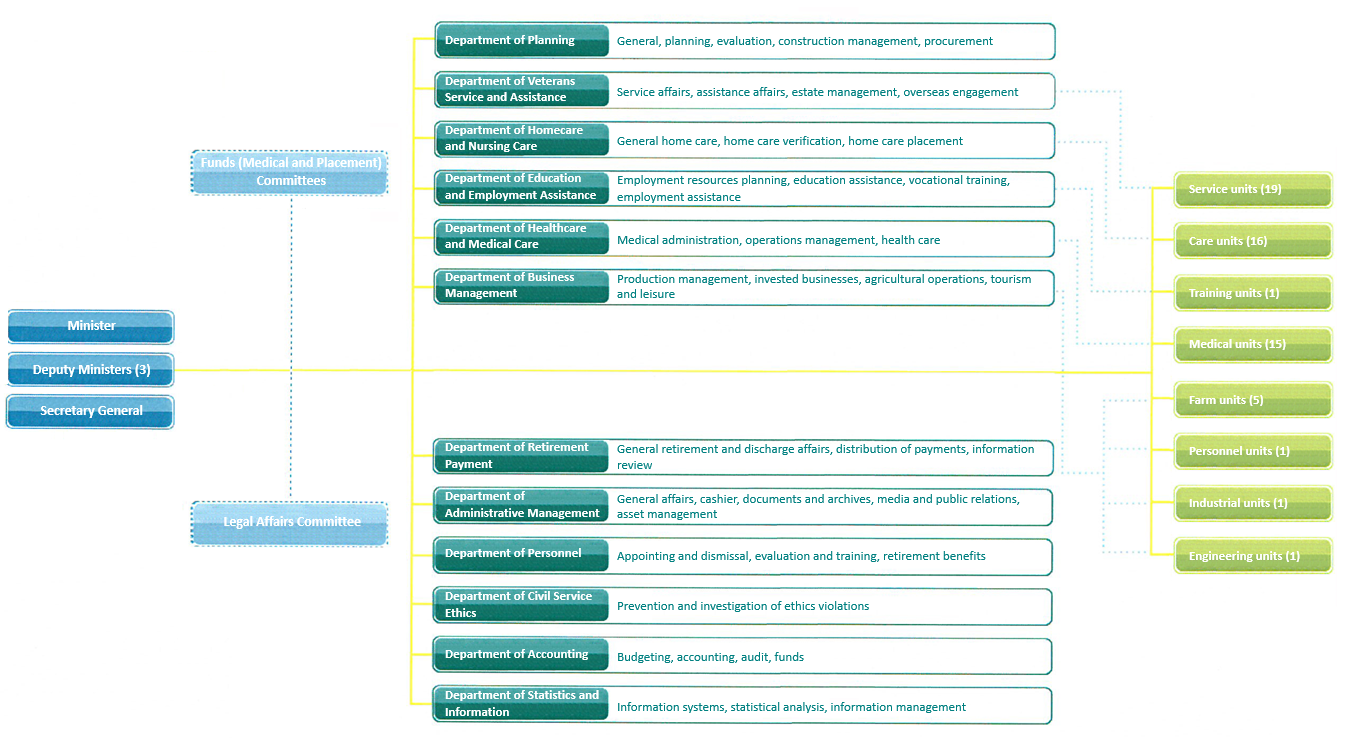 Note
Solid lines indicate chain of command; dotted lines indicate oversight of responsibilities.
There are 9 to 13 committee members and 9 counselors.
VAC was established in 1954, directly affiliated to Executive Yuan, mainly to assist with employment. Therefore, only four sections and three offices (secretariat, personnel, and accounting) were set up. The total staff number was only 77 people. VAC began the existing size after amending its organization Act 5 times in 1955, 1956, 1966, 1970, and 1981.

The VAC organization is run in a council system. The minister, who is assited by 3 deputy ministers, is in charge of all council affairs. Relevant miniters are invited to serve as councilors. At VAC GHQ, there are a secretary-general, and other 12 departments, plus a legal affairs committee, a reviewing board over appeal cases, a placement found management committee, and a medical fund mangement committee. The total staff number allowed is 402.

In addition, to carry out assistance for veterans "Education", "Employment", "Medical care", "Home-care" and other general services, various types of affiliated institutes have been gradually established:

1.Service Institutes
Because veterans live scatteringly in different areas after retiring from the armed forces, establishing a service system is a must to facilitate the full govermental services for veterans. Consequently, a total of 19 veterans service departments are established.

2. Home Care Institutes
In order to properly take care of the service-connected injured, disabled, or elderly veterans, 16 "home-care" institutes have been established to support home-care and nursing services.

3.Training Institutes
To strengthen the vocational and technical skills of the veterans, and develop specialties in them, so as to strengthen their employment competitiveness, the VAC has set up a Training Center.

4. Medical Institutes
When VAC was first established, due to the large number of veterans who urgently needed medical care, 15 veterans medical institutes are established. Through more than 50 years of effort and development, in addition to serving veterans and their families, they have now also been extended to serving every civilian in the country. They are now an important part of the domestic medical system.

5. Production Institutes
To enable young veterans to find employment easily after retiring from the military, VAC, since its establishment in 1954, gradually built agriculture, forestry, fisheries, industry, mining, engineering, and labor, production institutes. By doing so, these veterans are enabled to stablize their life on the one hand, and not to depend upon government assistance on the other. Under the principle of "support a business with another, and create more business with the existing, there had been 40 institutes established at the peak era. After 1989, due to the down-sizing and privatization policies, there remain only 15 agriculture, forestry, engineering, industry, and labor service institutes.